Hello Everyone! Happy Summer! It is finally hot and steamy, just how I like it around here. With the heat comes new summer styles, so it's time for another What The Trend!
Okay so, I totally understand when that humid sticky weather rolls in it can be tempting to walk around with little to the imagination when it comes to clothing. However, it seems as though nowadays we are taking this to a new level—enter the sheer clothing trend.
Here. This is the dress that really got me thinking about this trend. Although extreme, the sheer looks have been represented on many red carpets lately by the "naked dress". (See Kendall Jenner and her peachy bottom above at this years MET Gala)
So, thing #1: ….How the F is this trend going to translate to us normal people who don't have time to double stick tape the shit out of themselves every day to keep things in place?
Thing #2: I kind of miss the element of surprise of what lies beneath it all. Sure, this is 2017 and we are all here to back up body positive vibes. You do you, ladies. However, in day to day street wear how is this trend going to hold up to the public eye without looking like we forgot to wear an undergarment?
Let's take a further look!
Above, DallasStyle Blog strategically placed a pair of cropped jeans under her lacy and sheer dress. TBH, I love this look. I know wearing jeans in the summer is not ideal, however I do think the basics of the outfit work perfectly bringing in the trend without having anything else pop out. The essential layering gives you opportunities to express yourself with what you already own in your style closet.
Also, to bring this look into the warm summer months that we are currently hitting, swap out jeans for cut-offs and you are good to go! Here, Neon Fox brought a similar concept, that you don't really think twice as she crosses you on the street wearing a see-through top. I think that really is the key to this trend, balancing the eye catching element with casual chic vibes.
Okay so, feeling a little inspired? Let's do some shopping!
For a trend like this, I think it's wise not to dump your hard earned paychecks on one item, so you can snag these looks for less at your average Forever 21 and jazz them up with what you already own. Explore the discount stores. They are perfect for fleeting trends that you want to wear ASAP but not for long term commitment.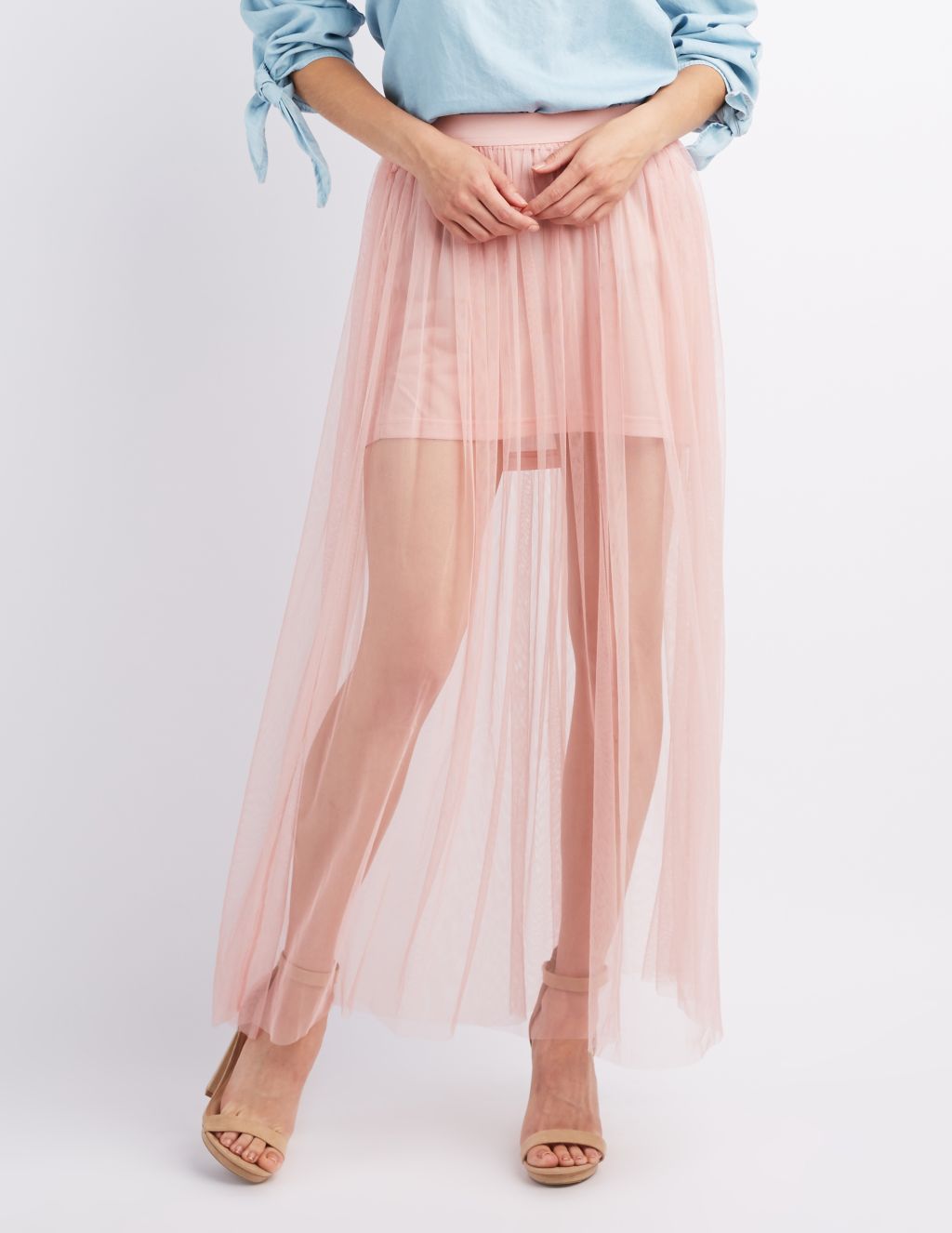 You can get this ballet-inspired version with this super cute skirt from Charlotte Ruse, and it won't break your bank account or your heart when you need to look the part for that perfect date night outfit.
Overall, I think this trend is totally doable! We don't need to be a Kardashian to rock the naked to the eye sheer trend, and you can bring your own style twist with all the layering possibilities! Imagine. Get out there and show the streets what you got. (Literally.)
xxo,
Amanda